About Us
Lawyer Referral Service (LRS) was founded in 1968 as a public service of the Riverside County Bar Association and serves all of Riverside County. The LRS has been certified by the California State Bar and meets the American Bar Association Standards for Lawyer Referral.
The LRS has over 100 lawyers on our panel screened for experience in virtually every area of law. Every lawyer on our panel must meet or exceed standards of experience and qualifications and are screened regularly for experience, insurance and client satisfaction.
Areas of law in which referrals may be made include:
Administrative Law
Auto Contract/Lemon Law
Bankruptcy
Business/Corporate
Conservatorship/Guardianship
Consumer Contract
Criminal charges
Employment/Labor
Family Law
Immigration & Naturalization
Juvenile Law
Landlord/Tenant
Personal Injury
Probate/Death Transfer
Professional Malpractice
Real Estate
Social Security
Tax
Tort Law/Other Negligence
Traffic Accident
Wills/Trusts/Estate Planning
Workers Compensation
plus other areas
How it Works
Step 1Call us and describe your legal matter to one of our intake counselors.
Step 2The intake counselor will let you know if an attorney qualified to assist you with your legal matter is available.
Step 3If an attorney is available and you decide to proceed, the intake counselor will schedule an appointment for you. A fee may be required in order to schedule the initial consultation (see below).
Step 4You will then meet (or call) the attorney for the initial consultation at the appointed date and time.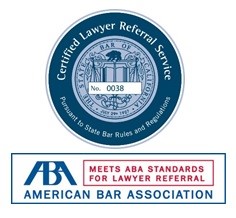 What it Costs
An initial $40.00 consultation fee is charged for most types of legal matters. Once paid, that fee entitles you up to a 30-minute consultation for advice from the attorney.
The initial consultation is FREE for these types of legal matters:
Personal Injury
Social Security
Workers Compensation
If, after your initial consultation, you decide that further legal services are needed, you and the attorney may agree on a fee for his/her continuing work. The LRS does not know what the attorney will charge for your case.
Contact Us
Click here to learn more about the Riverside County Bar Association Lawyer Referral Service.