Riverside County Barristers
Click here to view the Barristers Website.
---
Barristers Column — July/August 2021
Barristers Appreciation
By Goushia Farook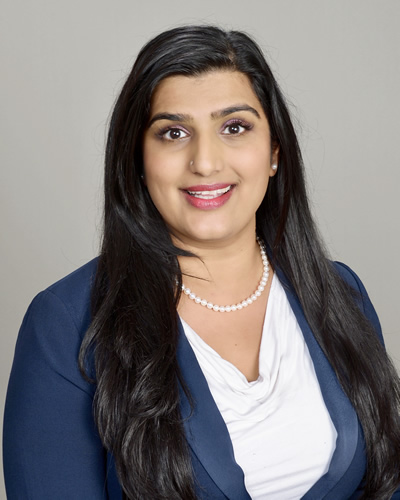 Goushia Farook
In 2020, the Barristers Board was fortunate to be sworn in by the Honorable Commissioner Belinda Handy. I have had the privilege of appearing in front of the Honorable Commissioner Handy in my practice as a family law attorney where I have both admired her and viewed her as a role model. When I heard the Honorable Commissioner Handy would be transferring to a new assignment on July 2, 2021, I was happy for her career advancement but saddened to lose such an amazing bench officer in Family Court.
The Honorable Commissioner Handy has served our Family Law bench with respect, honor, and professionalism since 2016. She is always prepared and expects nothing less from counsel appearing before her. On behalf of the Barristers and myself, we wish you the best in your new assignment and know how fortunate they will be to have you as a bench officer. We hope to see you at future Barristers events and thank you for your support of our organization. I personally thank you for being a role model who always demonstrates strength, intelligence, and civility on and off the bench.
Give Yourself a Break
I have noticed a common theme in speaking to colleagues and friends the past few months – everyone is busy! Not just slightly busy but extremely busy with impacted court hearings, in-person trials, depositions and catching up with the stagnant 2020 calendar. The COVID-19 levees have broken, and most practitioners are trying to regain balance in a sudden, overworked schedule.
While it has been satisfying going back to the practice of law in a semblance of normalcy, moving cases forward and getting finality for clients, it can come at a personal expense. I have spoken to several friends, and they speak of being tired, overwhelmed, and just stressed.
The World Health Organization defines burnout as "a syndrome conceptualized as resulting from chronic workplace stress that has not been successfully managed." This can include feeling exhausted, having less energy, reduction in professional efficacy and feeling negative about one's job.
While many of us may not classify these feelings into the concept of professional "burnt out," we have all been there. I am no expert, but I certainly know the value and importance of taking a step back and taking a break. I also know the personal guilt associated with wanting to take a break. Thinking I am less capable or weak if I need to take a break or say no to a delegated task. Admittedly, I still need to do better in taking a step back and giving myself a break, but I am learning! I have found a "break" does not have to mean that three-week vacation we have all been putting off since 2020. A break can be sitting down and reading that novel you have had on your list, taking an impromptu day trip to the beach with the family, meeting with friends for dinner and just catching up. More than anything, laugh. The feeling of being renewed and refreshed after a good laugh is a feeling all to itself. Our work is often thankless, and we deal with very heavy issues. Surround yourself with good company and have a laugh and take a break! Find your happy place and spend a few moments a day there!
Meet Your New Barristers Board
I am incredibly happy to announce the 2021-2022 Barristers Board. While the 2020 term has had its difficulties, I am happy to see new members and returning members.
President:
Michael Ortiz
President-Elect:
Lauren Vogt
Secretary:
Alejandro Barraza
Treasurer:
David Rivera
Member-at-Large:
Ankit Bhakta
Kevin E. Collins
Braden Holly
Alfonso Smith
Brigitte M. Wilcox
Past President:
Goushia Farook
Upcoming Events:
July 15, 2021 – Happy Hour at Downtown Experiment (3601 University Avenue) at 5:15PM.
August 5, 2021 – Happy Hour at Prohibition Whiskey Lounge (3597 Main Street) at 5:15PM
Follow Us!
Stay tuned for upcoming events!
Website: RiversideBarristers.org
Facebook: Facebook.com/RCBABarristers/
Instagram: @RCBABarristers
If there are any events you would like to see the Barristers host, MCLE topics you would like to see covered, or community outreach options you would like to see us participate in, please contact us and we would love to explore those ideas with you. You can also reach me personally at goushia@brlfamilylaw.com.
---
Goushia Farook is an attorney at Bratton, Razo & Lord located in downtown Riverside where she practices exclusively in the area of family law. She is a member of the board of directors of the Inland Counties Legal Services (ICLS) and a member of the Leo A. Deegan Inn of Court and Asian Pacific American Lawyers of the Inland Empire (APALIE). Goushia can be reached at goushia@brlfamilylaw.com.