Riverside County Barristers
Click here to view the Barristers Website.
---
Barristers Column — September 2021
By Michael Ortiz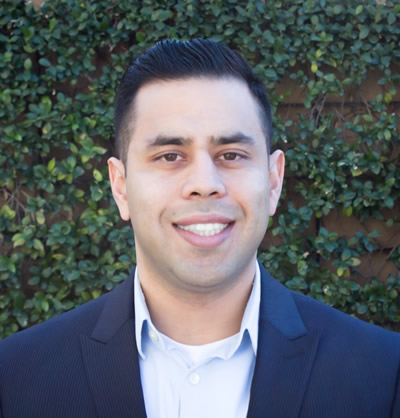 Michael Ortiz
A special thank you to outgoing Barristers President Goushia Farook
As I begin my term as president of the Barristers, I am humbled and honored at the opportunity to build upon the foundations of this organization laid by the great presidents that came before me. A special thank you to outgoing president Goushia Farook, who led us through the infamous year that was 2020. We finished strong, in Barristers' fashion, by having a "happy hour marathon" consisting of four happy hours during the months of July and August and culminating in the "Barristers secret exciting event" on August 26. What a way to end a term!
Seeing as this month's theme is "education," I feel it fitting to begin with my favorite quote about the topic, which is the following:
Formal education will make you a living; self-education will make you a fortune.
- Jim Rohn
As lawyers, we are no strangers to formal education. We have all completed more years of schooling than a majority of the national population. So why, then, should we bother with continuing self-education? Well, as Mr. Rohn so clearly explained above, because it will make you a fortune.
The fortune promised to those who self-educate is not in money, alone. Studies have shown that learning reduces anxiety and stress, significantly reduces burnout, and helps to develop optimistic perspectives toward work-related challenges. Learning improves feelings of competence, capabilities for problem solving, and overall self-esteem.
For me, personally, learning helps me stay curious and makes my life more enjoyable. Whether I am learning about estate planning and administration, managing and operating a law practice, or even prospecting for gold in the local mountains, learning new things has always had a net positive impact on my career and overall happiness.
Learning doesn't have to be a chore, either. As lawyers we learn from our peers, mentors, and sometimes from our own mistakes. Imitation, repetition, and exposure are some of the most primitive and passive ways humans learn. What I love about being part of the Riverside County Bar Association (RCBA) and the Riverside Barristers are the opportunities these organizations provide for members to learn things the easy way.
As a new attorney, I participated in the RCBA New Attorney Academy. The time I spent in the Academy and the opportunities to speak and learn from attorneys and judges, helped me immensely in the beginning of my legal career. In addition, attending RCBA events like the monthly membership meetings, section meetings, and round tables with local judges provided easy ways to improve my professional competence.
Participating with the Barristers has likewise provided opportunities for easy learning. I specifically recall reaching out to a fellow Barrister the first year I opened my own law practice. I encountered a situation I wasn't familiar with, and I simply asked a fellow Barrister that practiced at a larger firm for advice. She not only gave me her input, but asked one of the partners at her firm for his advice as well. These intangible benefits saved me time and more importantly decreased stress.
As president of the Barristers, it is my goal that new and young attorneys are aware of the many resources provided by these two wonderful organizations. Specifically, I will be working closely with the RCBA to reignite the RCBA mentorship program. The Barristers will continue to hold our monthly happy hours to help members build connections among each other. We will continue to hold CLEs and provide informal opportunities for new and young lawyers to learn fundamentals about practicing law. And, of course, we will continue the traditional Furristers hikes and Disneyland/Universal Studios trips because "why not?"
A Call to Action
When I first joined the Barristers Board, I made it my goal to serve my fellow RCBA new and young attorneys. The Barristers Board and I can only be as effective as the feedback we receive from our constituents. So, if you are a new or young attorney, I am asking you to come to at least one of our events. Whether it is a happy hour, Furrister's hike, or mentorship program event, I promise you it will be worth your time. You never know, you might be the next Barristers Board member or president.
Follow Us!
For upcoming events and updates:
Website: RiversideBarristers.org
Facebook: Facebook.com/RCBABarristers/
Instagram: @RCBABarristers
If there are any events you would like to see the Barristers host, MCLE topics you would like to see covered, or community outreach options you would like to see us participate in, please contact us and we would love to explore those ideas with you. You can also reach me personally at Mike@MikeOrtizLaw.com.
---
Michael Ortiz is an attorney at Ortiz Law, where he practices primarily estate planning and administration. He can be reached at Mike@MikeOrtizLaw.com.