Riverside County Barristers
Click here to view the Barristers Website.
---
Barristers Column — November 2020
A Brief Tribute to the Notorious RBG
By Goushia Farook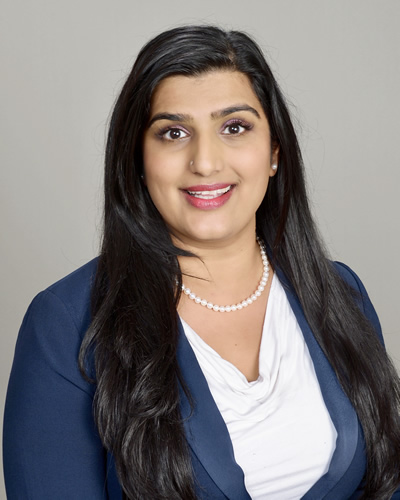 Goushia Farook
On September 18, 2020, our nation lost an icon and trailblazer for women's right and equality for all. Supreme Court Associate Justice Ruth Bader Ginsberg, a.k.a. The Notorious RBG. She was a legend and social figure so many looked up to. For many women I know and for myself, we lost a personal hero. I have admired the late Justice Ginsberg from childhood and my admiration grew as I pursued a career in law. It is awe-inspiring when I reflect on the life I am able to live without restriction and realize that it can be traced in large part to one woman zealously and tirelessly advocating for my rights. Not just mine of course, but men and women alike. Justice Ginsburg dedicated her career to ending gender discrimination and bias.
I hope we continue to pursue the mighty aspirations Justice Ginsburg had for us as a society. I also hope we honor her by being open to diversity and recognizing our commonalities despite our outward differences. I choose to honor Justice Ginsburg by embracing kindness and openness in my daily life. I share her life story with my niece, nephews, and godchildren, so they too will know her impact on their lives.
I will leave you with one of my favorite quotes by the late Justice Ginsburg, which is relevant to our current time: "We live in an age in which the fundamental principles to which we subscribe – liberty, equality and justice for all – are encountering extraordinary challenges. But it is also an age in which we can join hands with others who hold to those principles and face similar challenges."
Inaugural Virtual Installation 2020
I want to take a moment to thank Sophia Choi, Megan Demshki, Daniel Zepeda (technical assistant), Charlene Nelson and all those who made the Inaugural Virtual Installation a success. On behalf of the Barristers, we know this event presented challenges in planning and presentation, but we thank you for your tireless efforts. Your dedication resulted in a seamless presentation. On behalf of myself and the Barristers, I would also like to thank the Honorable Commissioner Belinda Handy for swearing in the Barristers board. We sincerely appreciate you taking your valuable time to get to know us individually and swearing us in. Our installation was made particularly special by your presence.
Barristers Shenanigans
As I write this article in mid-October for the November issue, we have yet to have our first virtual Barristers event. We are looking forward to our first virtual happy hour and hope to see a great turnout. We will be playing games and offering prizes, so be sure to Zoom in! We are also working on arranging virtual MCLE opportunities as the MCLE reporting deadline approaches for many of us. Lastly, we are diligently looking into community outreach opportunities that can be accommodated with COVID-19 restrictions. If you have ideas or resources, please feel free to contact me!
Thanksgiving Greetings
As you are reading this, we will be amidst the Thanksgiving holiday season. Despite how different the holiday season may be this year; I hope we can reflect on all the good we have in our lives. I wish you all a happy and blessed Thanksgiving! I am grateful for a wonderful family, an amazing work family, my niece, nephews, godchildren, and friends.
Upcoming Events:
November 17, 2020 at 9:00 a.m. – Social Distance Hike at Mt. Rubidoux 9:00 AM (meet at Ryan Bonaminio Park). Pets and Furristers welcome!
MCLE (Virtual) – Stay Tuned!
Follow Us!
Stay up to date with our upcoming events on the following:
Website:RiversideBarristers.org
Facebook: Facebook.com/RCBABarristers/
Instagram: @RCBABarristers
If there are any events you would like to see the Barristers host, MCLE topics you would like to see covered, or community outreach options, please contact us and we would love to explore those ideas with you. You can also reach me personally at goushia@brlfamilylaw.com.
---
Goushia Farook is an attorney at Bratton, Razo & Lord located in downtown Riverside where she practices exclusively in the area of family law. She is a member of the board of directors of the Inland Counties Legal Services (ICLS) and a member of the Leo A. Deegan Inn of Court and Asian Pacific American Lawyers of the Inland Empire (APALIE). Goushia can be reached at goushia@brlfamilylaw.com.