President's Message—June 2018
By Alexandra Fong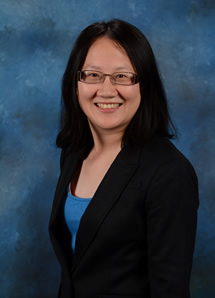 Alexandra Fong
This month's issue of Riverside Lawyer focuses on the solo and small firm practitioner. Since becoming licensed to practice law in the State of California in late 2000, I have practiced at two law firms, Lewis Brisbois Bisgaard & Smith LLP (formerly known as Lewis D'Amato Brisbois & Bisgaard LLP) and the Office of Riverside County Counsel.
As such, I have no idea how much work and time it takes to start one's own practice. There are great articles in this edition of Riverside Lawyer, but I will discuss the basics.
Attracting clients
Entity type
Firm's name
Malpractice insurance
Other insurance
Business licenses
Bank account(s)
Office location
Employees
"Catchy" phone number
Attracting Clients
So, you've decided to open your own practice and the first thing that comes to mind is how to get clients, other than your friends and family, who have been anxiously waiting for you to graduate from law school and pass the bar exam. You can obtain clients by advertising and marketing yourself, both online and in print. There are various attorney websites where you can "claim" your profile and expand on the public information. In order to make contacts, you should attend events, such as ones that include other attorneys and ones which include people working in the field in which you practice.
You should also consider joining the Leo A. Deegan Inn of Court, which is the RCBA's chapter of the American Inns of Court. Membership applications are accepted until July 20, 2018, and decisions are made in August. The cost of membership varies, depending on your level of experience, but is a maximum of $550 in membership dues and dinners (8 dinners). You are required to be a RCBA member for two years (2018 and 2019) as the Inn's fiscal year runs from June 1 to May 31. Scholarships are available.
Entity Type
In California, a solo attorney can be a sole proprietorship or a professional corporation. If you are starting the firm with another attorney, you also have the option of being a limited liability partnership. You should consult a professional to assist you.
Firm's Name
Many attorneys name their firms after themselves, for example "The Law Offices of John Smith" or "John Smith & Associates." If you're practicing a specific area of law such as criminal defense or personal injury, you might want to consider a name that incorporates that area of practice, so that when a potential client searches for attorneys in that field on the internet, your firm will be one of the first ones that show up.
Malpractice Insurance
Prices can vary depending on what your policy limits are and levels of risk, but expect to pay anywhere from $500 to $3000 per year for malpractice insurance. There are many different providers for malpractice insurance, including one of our advertisers, Lawyers Mutual Insurance Company (LMIC) and the State Bar of California's sponsored insurers, Mercer.
Other Insurance
Wait, you need more insurance? Other insurance concerns may arise, regardless of whether you have a home office or an office outside the home and whether you have employees. This would include general liability, property damage, worker's compensation, as well as a few others. Be sure to speak with an insurance agent for more details.
Business Licenses
Regardless of whether you have a home office or one outside the home, you will need to obtain a business license from the city where your office is located. If you have a home office, you should verify that the zoning of your residence allows for home-based businesses to operate.
Bank Accounts
Attorneys often handle their clients' money, settlement checks, for example, or advance payments for court costs or other expenses. Any lawyer who handles client funds that are too small in amount or held too briefly to earn interest for the client must participate in the Interest on Lawyers' Trust Account (IOLTA) program. Such IOLTA accounts can only be kept at approved financial institutions. 1
Office Location
If you're not sure whether you want to practice out of your home, consider getting a post office box at the local post office or a private mail box at a local UPS Store that you can register with the State Bar.
Employees
Should you hire an employee or two when you set up your office? When first setting up your office, you might consider utilizing the services of a virtual receptionist that can professionally answer any calls made to your office.
"Catchy" Phone Number
I admit that I listen to radio advertisements on the way to work. One in particular, for a personal injury law firm, caught my attention with the "catchy" jingle and telephone number. A couple of months later, a similar jingle came up with a slightly different phone number and slightly different firm name. After researching the issue on the internet, I realized that the law firm had dissolved and one of the named partners remained in practice. But the jingle and the easy-to-remember telephone number stuck in my mind and that is something new attorneys should think about.
I believe those are all the topics that came to mind when I thought about this issue. RCBA has a Solo and Small Firm Section, which is co-chaired by Andrew "Drew" Gilliland and Taylor Bristol Warner, both owners of their own small firms. Additional information about Drew can be found in the March 2018 issue of Riverside Lawyer. This past year, the Solo and Small Firm Section held three CLEs. It is anticipated that additional CLEs will be offered when the section starts again in the fall.
---
1 http://www.calbar.ca.gov/Attorneys/Conduct-Discipline/Client-Trust-Accounting-IOLTA
http://www.calbar.ca.gov/Attorneys/Conduct-Discipline/Client-Trust-Accounting-IOLTA/Financial-Institutions/Eligible-Institutions
---
L. Alexandra Fong is a deputy county counsel for the County of Riverside, practicing in the field of juvenile dependency law, and is president-elect of the Leo A. Deegan Inn of Court.