President's Message—September 2017
By Alexandra Fong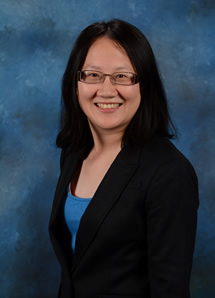 Alexandra Fong
It is a great privilege serving as Riverside County Bar Association president this year. I am a deputy county counsel with the Riverside County Counsel's Office and currently practice in the field of juvenile dependency law. I am honored to follow a long line of attorneys from the Riverside County Counsel's office to serve as president of this organization, including Ray Sullivan, James Angell, Earl Redwine and William Mackey.
For those of you who don't know me, I graduated from California Southern Law School in January 2000. I passed the February 2000 bar exam and started my legal career at Lewis Brisbois Bisgaard & Smith LLP (then known as Lewis D'Amato Brisbois & Bisgaard) in San Bernardino, California, shortly after becoming licensed. After five years in private practice, I joined the Riverside County Counsel's Office and handled administrative, litigation, and transactional matters before transitioning into the field of juvenile dependency law, where I regularly appear before Judge Jacqueline Jackson, the presiding judge of the juvenile court.
This year, I will be working with an excellent board: Jeff Van Wagenen, Jack Clarke Jr., Sophia Choi, Nick Firetag, Lori Myers, Matthew Strickroth, Stefanie Field, Jennifer Lynch, Jean-Simon Serrano, and Shumika T.R. Sookdeo, Barristers' President. We also have a remarkable executive director, Charlene Nelson, to help us run things smoothly. Together, we will work hard so that the RCBA remains in outstanding fiscal health.
The installation dinner will be held at the Mission Inn on September 28, 2017. District Attorney Michael Hestrin will be the master of ceremonies for the event. Judge Jacqueline Jackson will swear in the 2017-2018 Board of Directors for the Bar Association and Justice Richard T. Fields will swear in the 2017-2018 Barristers Board. During the dinner, Jane Carney will present Senator Richard D. Roth with the James H. Krieger Meritorious Service Award for his outstanding record of community service and Justice Fields will present Judge Gloria C. Trask with the E. Aurora Hughes Award for her dedicated service to the RCBA. Please join us for this very special evening.
This month's magazine is dedicated to "Education and the Law," with the subtopic of "Back to School." As I mentioned earlier, I attended California Southern Law School in Riverside, California. Many students who attend their part-time program at night do so in order to embark on second careers as attorneys. The majority of the students in my graduating class worked full-time during the day and attended night school three nights per week. My graduating class consisted of individuals at stages in various careers – a pharmacist, a sheriff's deputy, two legal secretaries, school teachers, insurance claims adjusters, and those in the field of information technology. Although I was also working full time and going to law school part-time at night, I knew my first and only career would be as an attorney.
On a final note, RCBA board meetings are open to members, except for executive sessions. I invite you to attend our board meetings, which are generally scheduled on the third Wednesday of the month. Please call the RCBA at 951-682-1015 and let us know if you plan to attend. I look forward to seeing you at the installation, at one of our upcoming board meetings, or one of the many other events hosted by the RCBA!
---
L. Alexandra Fong is a deputy county counsel for the County of Riverside, handling juvenile dependency cases.