Riverside County Barristers
Click here to view the Barristers Website.
---
Barristers Column — December 2019
By Paul Leonidas Lin.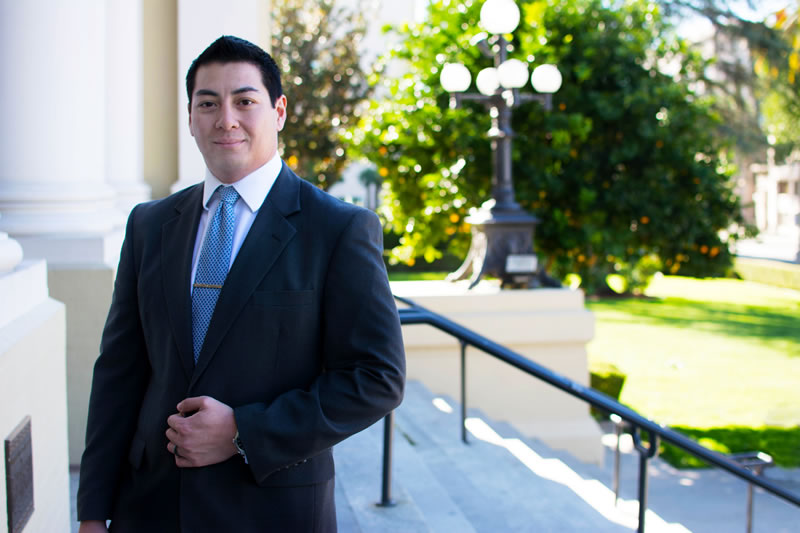 Paul Leonidas Lin
In medias res (Latin for "in the middle of things") is a literary and cinematic plot device where the story begins right in the action. Often used to hook the reader or viewer and make them come back for more. Relevant to this column is that conclusion amongst the Barristers Board that we have peaked with our October "Meet the RCBA Furristers" article. This column will never be as cute or entertaining ever again. So if you wish to skip this article for the remainder of the term, we do not blame you.
Nevertheless, as required by the in medias res plot device, we must now begin at the beginning: Introductions. Meet your 2019 – 2020 Barristers Board.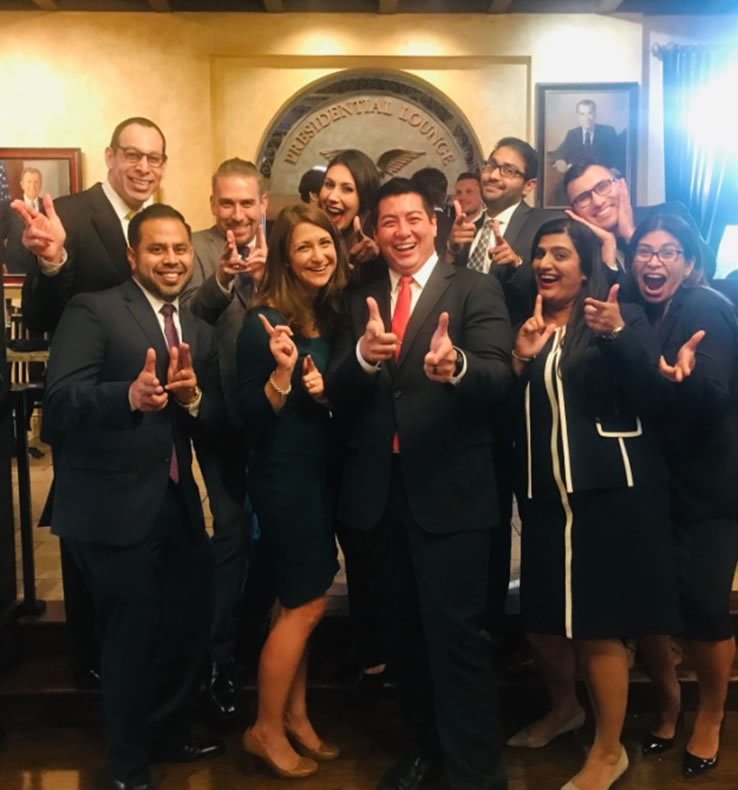 (Top: David Rivera, Stuart Smith, Lauren Vogt, Ankit Bhakta, Alejandro Baraza. Bottom: Michael Ortiz, Megan Demshki, Paul Lin, Goushia Farook, Patty Mejia.)
Paul Leonidas Lin, President
Paul is a criminal defense attorney at The Lin Law Office Inc., who sometimes speaks in the third-person. Given the number of Happy Hours planned during his administration, I think it is no secret why he joined the Barristers Board. Unknown to some, Paul was born and raised in Puerto Rico, where he holds the Puerto Rican National Record for solving the 3x3x3 Rubik's Cube in 24.51 seconds. In his downtime, Paul likes to hit the gym, rock climb, or just be active and moving. If Paul could replace all the grass in the world with something else, he'd choose orange blossoms. How would that work exactly? "I don't know. I'm a lawyer not a botanist."
Goushia Farook, President-Elect
Goushia practices family law at the Law Offices of Shauna M. Albright. She joined the Barristers Board to be more involved and give back to a great legal community that had been supportive of her. Goushia is fluent in four languages, a lover of reading, painting, and pandas. When she's not working Goushia likes to spend time with her family and travel (sometimes to a place where she is chased by a bull in a very narrow alleyway.)
If Goushia had to choose between sweating melted cheese or having snakes for hair, she'd choose the snakes. Goushia would name each snake and teach them different hair styles. She'd never have to do her hair again, instead just telling them to "bun up" and instantly have a snake hair bun. Bad hair day? Just blame it on the snakes since they have a mind of their own.
David P. Rivera, Treasurer
David is a business transactional law attorney for the Law Office of David P. Rivera. Why did he join the Barristers Board? Because in a game of truth or dare, he always chooses dare. With a resting heart rate of 42 BPM, nothing ever fazes David. When he's not working hard, David likes to read. Everything. And had he'd named it, peanut butter would be more appropriately named "Chocolate Entrapment."
Michael Ortiz, Secretary
Michael is an attorney at Ortiz Law and practices in estate planning. He joined the Barristers Board because of the comradery and opportunity to serve his fellow new lawyers. In law school, Michael won the "life of the party" award. This fact remains true today. When he's not working, he's spending his time upside-down, trying to master the hand-stand. If Mike had to sum up the internet in one sentence, he'd say "Imagine you threw a party and invited Elon Musk, Bill Gates, the Pope, Kanye West, Albert Einstein, Taylor Swift, Beyonce, Jim Carey, Whoopi Goldberg, Dave Chappelle, Madonna, Barrack Obama, Baby Shark, Donald Trump, and that homeless guy that talks to himself at the corner by 7-11 – that's pretty much the internet."
Alejandro Barraza, Member-at-Large
Alejandro is a criminal defense attorney at the Law Office of Alejandro Barraza Paez, APC. Initially as a barristers member, Alejandro befriended many new people within Riverside Law Community that were doing fruitful work in the community. He decided to join the Barristers Board the following year to get that opportunity to show new attorney members that we are super cool group and invite them to help our community grow. Preserved in his mom's closet is a 3' by 3' photo of 13-year-old Alejandro from when he was named the "Scholar Athlete" in high school. If you're ever over at his house, his mom will proudly bring it out to show you.
Alejandro likes to spend all his spare time with his fiancé, Ashley and their furrister Mochi. They will watch the English Premier League or just going back home to mom's for flour tortillas and viewings of the giant photo. If held at gunpoint and ordered to dance to impress or die, Alejandro would call up Michael "Life of the Party" Ortiz as his hype man. Then he would "dance a little of this, dance a little of that, and dance all over the place," all while throwing in some Dr. Seuss rhymes. Perfection.
Ankit Bhakta, Member-at-Large
Ankit practices general business litigation, primarily in labor & employment defense, at Varner & Brandt LLP. He joined the Barristers Board to get more involved in the Inland Empire community and join forces with my peers in encouraging and enjoying community involvement. As an undergrad at UCLA, Ankit was part of two separate Indian dance teams, both of which qualified for their respective national competition. When he's not being competitive in court, Ankit likes to bring his competitive nature to sports and board games. Be forewarned, if Ankit plays, he plays to win.
If given the authority to create a holiday, Ankit would create "Teachers' Appreciation Day" in March (given the void of holidays.) This would be celebrated by having students and parents write letters of appreciation to the teachers in their lives.
Patty Mejia, Member-at-Large
Patty is a criminal defense attorney with the Riverside Public Defender's Office. She joined the Barristers Board to get to know the future of our legal profession and to make lifelong friends along the way. Patty is a basketball fanatic. She's been playing and coaching basketball since the age of 8. When she's not working or coaching, Patty loves to travel. When possible, she tries to visit at least one new country every year. If given the ability to shrink any object to put in her pocket, Patty would shrink her sister so she'd always be around to make her laugh.
Stuart R. Smith, Member-at-Large
Stuart is a corporate and business transactions attorney for Varner & Brandt LLP. He joined the Barristers Board to give back to the Riverside legal community and meet his fellow attorneys in the Inland Empire. One day Stuart would like to hike the pacific crest trail from start to finish. "In sections of course, because who has six months to take off work?" For fun, Stuart likes to play golf, hangout with family, and binge Netflix. In response to one of the most controversial topics plaguing America today, Stuart stated "Pineapple on pizza, really? Come on people, let's get it together."
Lauren M. Vogt, Member-at-Large
Lauren practices personal injury and employment law at Rizio Lipinsky. Lauren joined the Barristers Board to get more involved in the Riverside community and the legal community as a whole. Unbeknownst to most people, Lauren is the complete and polar opposite to the Most Interesting Man in the World. So she claims. In her scarcely free time, Lauren likes to spend time with her puppies, whether it's at the beach or just binging a show on the couch. If Lauren could scale up any animal to the size of a horse, she'd choose a bunny so she could hop around Riverside in brilliant style.
Megan Demshki, Immediate Past President
Megan is a traumatic personal injury, wrongful death, and medical malpractice attorney at Aitken Aitken Cohn. She joined and eventually lead the Barristers Board to get more involved in the Riverside legal community with who she considers "some of the best people you'll ever meet!" Fun fact: Megan has restored both a 1985 GMC Jimmy and a 1974 BMW 2002. When she's not working into the late hours of the night, she's hanging out with her beautiful golden retriever Zoey, waterskiing, or just traveling. When asked if given the ability to talk, which animal would be the rudest? Megan stated "Flamingos. No explanation necessary."
Upcoming Events:
Saturday, December 7 – Hike with the RCBA Furristers! Meet at 8:30 a.m. Hike starts at 9:00 a.m. Outdoor Brunch at Taco Station immediately after.
Thursday December 12 – Elves Wrapping starting at 5:00 PM at the RCBA Building with Happy Hour at Wolfskill to follow
Friday, January 24 – Happy Hour at Mezcal starting at 5:00 PM
Friday, February 21 – Happy Hour at Brickwood starting at 5:00 PM
Friday, February 21 – Happy Hour at Heroes starting at 5:00 PM
Follow Us!
Stay up to date with our upcoming events on the following:
Website:RiversideBarristers.org
Facebook: Facebook.com/RCBABarristers/
Instagram: @RCBABarristers
---
Paul Leonidas Lin is an attorney at The Lin Law Office Inc. located in Downtown Riverside where he practices exclusively in the area of criminal defense. He is the Immediate Past President of the Asian Pacific American Lawyers of the Inland Empire (APALIE.) Paul can be reached at PLL@TheLinLawOffice.com or (951) 888-1398.