Riverside County Barristers
Click here to view the Barristers Website.
---
Barristers Column — May 2020
By Paul Leonidas Lin.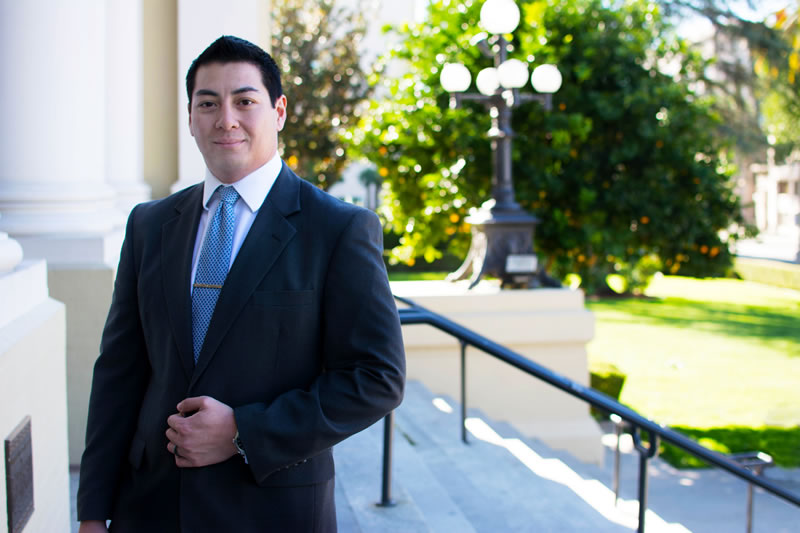 Paul Leonidas Lin
Virtual Court Appearances: Key to the Future or Violation of the Natural Law?
The date is April 10, 2020. We are in (what we think is) the depths of the novel coronavirus (COVID-19) pandemic. Stay-at-Home orders have been imposed. All non-essential businesses closed and non-essential events cancelled. But the criminal courts limped on for emergency matters. After weeks of staying at home, I gleefully suit up for an emergency hearing. While waiting for my case to be called in the one of only two departments opened for criminal matters, I decided to peek into the only other criminal department to observe how they were handling in-custody arraignments.
To my surprise, the "bar" had been closed off—its opening barricaded with a stack of chairs. Only court staff stood on the other side of the "bar." There were no attorneys in sight. On the large projected screen stood five heads. The judge seated in front of me; the Deputy District Attorney at her office down the street; the Deputy Public Defender at her home office; a Private Attorney at his office; and an inmate—75-miles away—at the Indio Jail. I was astonished and excited that I was here to see the birth of the future. My colleague who walked in shortly after, less so. He could not wait for things to get back to "normal." This reminded me of the golden rule of technology:
Anything that is in the world when you're born is normal and ordinary and is just a natural part of the way the world works.
Anything that's invented between when you're fifteen and thirty-five is new and exciting and revolutionary and you can probably get a career in it.
Anything invented after you're thirty-five is against the natural order of things.1
As marvelous as it was seeing this technology used to ensure the administration of justice, that was just the beginning of its potential. The Barristers Board, as well as many who see this as "new, exciting, and revolutionary" have unlocked its true power—Virtual Happy Hours.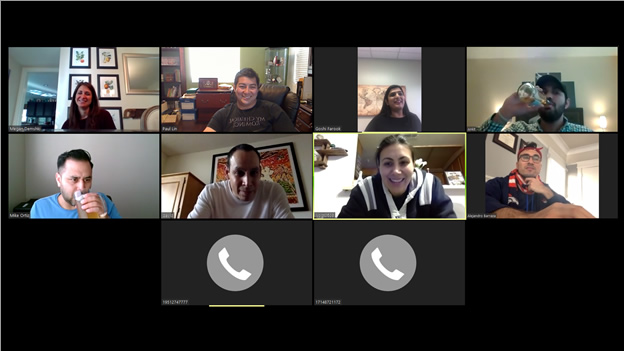 (Barristers April 2020 Board Meeting Happy Hour.)
Because drinking alone (unless you count the Lord as a person ) means you need some more Competence Issues MCLEs, but drinking with friends means you are social!
Elections for 2020-2021 Barristers Board
On Wednesday, June 10, 2020, we will be holding our annual elections for the upcoming 2020-2021 Barristers Board. The following are the candidates for the 2020-2021 Barristers Board:
President Elect:
Michael Ortiz
Treasurer:
David P. Rivera
Secretary:
Alejandro Barraza
Lauren M. Vogt
Member-at-Large:
Alejandro Barraza
Ankit Bhakta
Braden Holly
Kevin E. Collins
Patty Mejia
Michael Ortiz
David P. Rivera
Stuart R. Smith
Lauren M. Vogt
Brigitte M. Wilcox
In accordance with our Bylaws, Goushia Farook and Paul Leonidas Lin will automatically assume the office of President and Immediate Past President, respectively, for the 2020-2021 term.
The current plan is to host the event at the Brickwood at 5:00 PM for happy hour, with voting around 6:00 PM. However, given the fluidity of the current state of affairs, things could change to voting electronically, over Zoom, or postpone to July. But, if it turns out that we are living in the Darkest Timeline, we will be live streaming a game of survival where the candidates are forced to fight one another to the death. Please follow us on social media to stay up to date!
Future Barristers Events
All joking aside, given the current Stay-at-Home order that is present as of the writing of this article, we are currently uncertain of when businesses will reopen for our patronage and happy hours. We have postponed our Trivia Night and Judicial Reception for now, but are still planning to have both when possible.
Below we have listed a May Happy Hour and a June Board election date. Both are tentative, of course, pending the state of the world on those dates. But, as Judge Fernandez likes to say to me when I smile, ask for my 11th continuance on a case—hoping that it'll be the last continuance on the matter and that it'll resolve at the next hearing—"hope springs eternal."
Hope does spring eternal amongst the Barristers that this too will pass. We will soon be clinking glasses and talking about the new skill we learned during these dark times—mine is gardening. So please stay up to date with us on all our social media, it will have the most up-to-date event details. Until then, stay safe and may the odds ever be in your favor.
Upcoming Events:
Friday, May 15 – Happy Hour at 5:00 p.m. Location TBD.
Wednesday, June 10 – Barristers Board elections at The Brickwood, starting 5:00 PM.
TBA - Trivia Night at Retro Taco
TBA - Judicial Reception starting at Grier Pavilion
TBA - Escape Room
TBA - Hike with the Furristers at Mt. Rubidoux
Follow Us!
Stay up to date with our upcoming events on the following:
Website:RiversideBarristers.org
Facebook: Facebook.com/RCBABarristers/
Instagram: @RCBABarristers
---
1 To the unversed, a reference to The Salmon of Doubt.
2 One of two Simpsons references in this issue. Find the second!
---
Paul Leonidas Lin is an attorney at The Lin Law Office Inc. located in Downtown Riverside where he practices exclusively in the area of criminal defense. He is a Past President of the Asian Pacific American Lawyers of the Inland Empire (APALIE) and founding member of the newly formed Riverside County Criminal Defense Bar Association (RCCDBA). Paul can be reached at PLL@TheLinLawOffice.com or (951) 888-1398.