Riverside County Barristers
Click here to view the Barristers Website.
---
Barristers Column — October 2019
By Paul Leonidas Lin.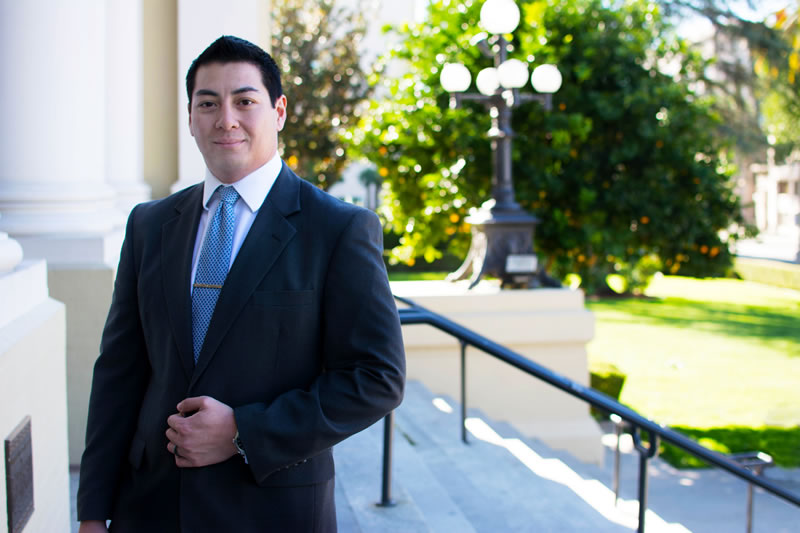 Paul Leonidas Lin
Meet the RCBA Furristers, a subsidiary of the RCBA Barristers.
Deadlines, long hours, and demanding clients are just the tip iceberg of what makes the practice of law one of the most stressful careers one can have. However, there is a solution. Science tells us that having a furry friend can decrease depression, stress, anxiety, and even lower your blood pressure. We here at the RCBA Barristers believe in science.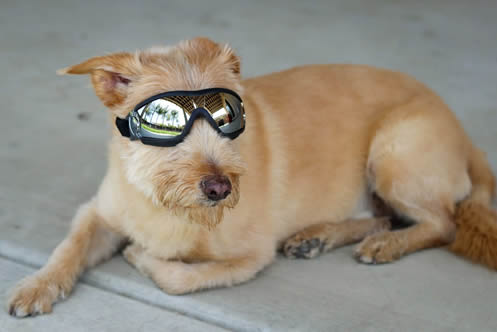 Simba, a Terrier-Beagle Mix of Paul Lin, president of the RCBA Barristers.

Ten years ago, Paul saw this little runt running around on the streets in front of his house with the neighborhood kids. When asked whose dog was it, the kids responded "We don't know!" and went off to play something else. Obviously, this little thing was too adorable to be a stray, so Paul took him in and put up signs so the owner can find him. To this day, no one has claimed Simba. So if anyone is missing a dog, too bad. The statute of limitations ran seven years ago. (See Cal. Code Civ. Proc., § 338, subd. (c).)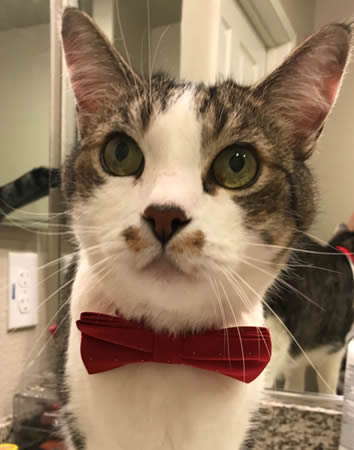 Lilo is an awesome Domestic Shorthair of Goushia Farook, president-elect of the Barristers.

Meet Lilo! He enjoys long naps and belly rubs. Lilo is a classic actor best known for his role as a starving kitty begging for treats.

Fun legal fact: Pursuant to California Family Code section 2605, a party in a dissolution, may now seek joint or sole ownership of their pet! Lilo is Goushia's separate property and she plans to keep him as such. Would you seek custody of your pet?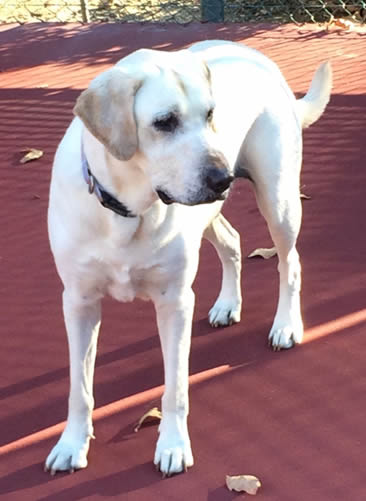 Marley is a loving Labrador-nephew of David Rivera, treasurer of the Barristers.

Marley is always eager to lend a helping paw, especially when food is involved. Ever the entrepreneur, Marley is the self-styled expert witness to David's law practice for dog bite defense cases, requesting compensation in the form of Purina Frosty Paws ice cream. David is happy to oblige Marley's ice cream appetite whenever possible, notwithstanding that his law practice centers on business transactional law.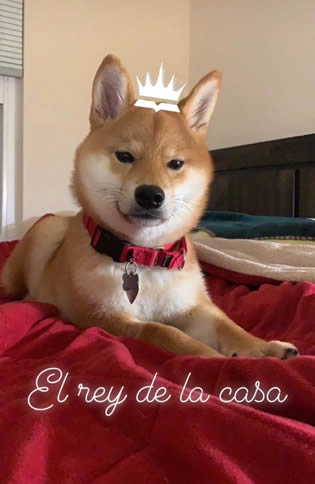 Mochi is a Shiba Inu of Alex Barraza, member-at-large of the Barristers.

Mochi is a fluffy bundle of joy that provides Alex with millions of heart-eye emoji moments. But because of this cuteness, many people want to stop and pet him during his walks. Fortunately, like most dogs, Mochi enjoys a good petting. But just like people, every dog has a different level of tolerance for physical affection. As a criminal defense attorney, Alex knows the importance of getting consent. So please, before petting the next cute puppy you see, get consent of puppy-parent and puppy-child.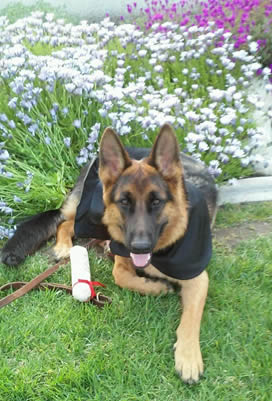 Rishi is a German Shepherd of Ankit Bhakta, member-at-large of the Barristers.

Meet Rishi, a four-year-old German Shepherd who is never too tired to play fetch! But—don't let his scholarly exterior fool you. While his owner safeguards his clients' assets from civil lawsuits, Rishi safeguards the house from coyotes and would-be burglars!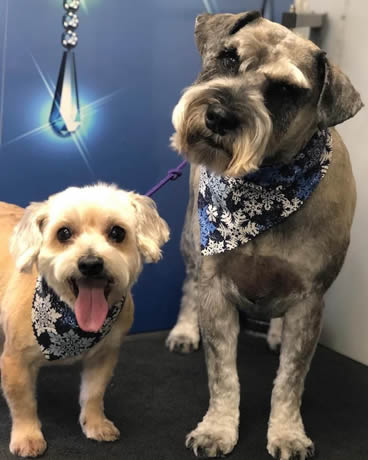 Cubbie (left) and Jager (right). They are the Yorkipoo and Schnauzer of Lauren Vogt, member-at-large of the Barristers.)
Privileged to be their dog-servant, when Lauren isn't serving her personal injury clients, she's at home serving Jager with snuggles. All the while Cubbie sits upon his white tower to observe the peasants as they pass by.
Zoey is a Golden Retriever of Megan Demkshi, immediate past president of the Barristers.
On the eve of closing statements after a particularly lengthy trial and many late nights at the office, Megan received a text message from her husband: "I think I'm ready for that dog we keep talking about." The jury came back on a Friday afternoon, and by Sunday morning, Zoey was in the car on the way to her new home.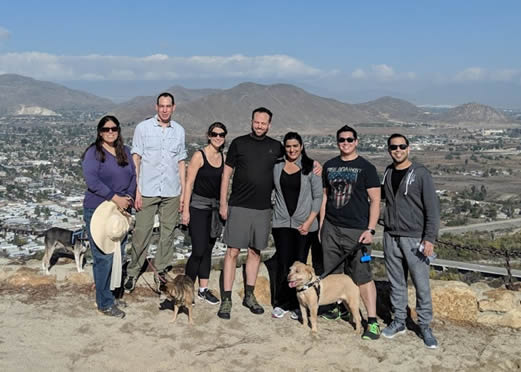 Barristers Hike to Mt. Rubidoux on December 1, 2018.
As lawyers we spend far too much time in our office and away from our furry-family members. Last year, we had our first group hike up Mt. Rubidoux. Unfortunately there were simply not enough furristers in attendance. Let's change that this year. Come join us for a morning hike on November 2, 2019. We'll meet at Ryan Bonamino Park at 8:30 a.m. The hike will begin around 9:00 a.m. After the hike, we'll meet at Heroes for brunch and drinks. We will be sitting outside, so bring your furry friends!
Upcoming Events:
Thursday, October 3 – The Barristers and JAMS bring you a MCLE and a beer tasting. Join us at 5:00 p.m. at the Riverside Law Library for a beer tasting and appetizers, with Elimination of Bias MCLE to follow.
Friday, October 18 – Happy Hour at Retro Taco, starting at 5:00 p.m.
Saturday, November 2 – Hike with the RCBA Furristers! Meet at 8:30 a.m. and the hike starts at 9:00 a.m. Outdoor Brunch at Heroes immediately after.
Friday, November 15 – Happy Hour at Probation Whiskey Lounge, starting at 5:00 p.m.
Follow Us!
Stay up to date with our upcoming events on the following:
Website:RiversideBarristers.org
Facebook: Facebook.com/RCBABarristers/
Instagram: @RCBABarristers
---
1 For the unindoctrinated, a Nacho Libre reference.
---
Paul Leonidas Lin is an attorney at The Lin Law Office Inc. located in Downtown Riverside where he practices exclusively in the area of criminal defense. He is the Immediate Past President of the Asian Pacific American Lawyers of the Inland Empire (APALIE.) Paul can be reached at PLL@TheLinLawOffice.com or (951) 888-1398.