Riverside County Barristers
Click here to view the Barristers Web site.
Barristers President's Message
May 2017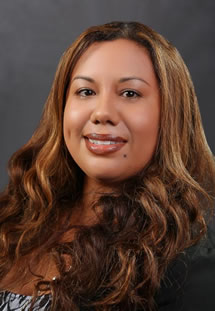 Erica M. Alfaro
Erica M. Alfaro
Board Member Q&A: Shumika T. R. Sookdeo
Shumika is a member-at-large on the Barristers board and grew up in Riverside. Shumika graduated from the University of California, Santa Barbara with a degree in English. She earned her Juris Doctorate from Barry University School of Law, in Orlando, Florida. While attending law school, Shumika competed on a mock trial team. She also had a summer internship with the Orange County Public Defender's Office in Orlando, Florida.
Shumika is currently managing attorney at Robinson Sookdeo Law, a general practice law office that handles family law, criminal law, bankruptcy law, and eviction cases. The office is located in Riverside because it enables Shumika to serve members of a community where she was raised. Prior to being admitted to the California Bar, she volunteered as a law clerk with the Law Offices of the Public Defender in Riverside. Currently, Shumika is licensed to practice law in California and Florida.
Shumika Sookdeo
Shumika was recently appointed as Commissioner of the California Commission on Access to Justice. She is the Immediate Past President of the Richard T. Fields Bar Association. She currently serves on the California Association of Black Lawyers Board.
Shumika enjoys practicing law in the Inland Empire because she enjoys the sense of community and camaraderie among her colleagues. She finds that Inland Empire attorneys tend to work collaboratively to resolve legal matters.
She is an avid volunteer for various organizations and clinics that assist students, low income families, and troubled youth throughout the Inland Empire and in the Los Angeles area. Shumika has been a volunteer attorney at the Harriett Buhai Center for Family Law, located in Los Angeles since 2012. She has also been a volunteer Education Representative with the Riverside County Bar Association's Project Graduate Program, mentoring foster youth since 2013.
Shumika enjoys being a Barristers board member because she likes planning events for her peers. She finds it refreshing to spend time with younger and newer attorneys that can relate to the specific issues and perspectives she has about life and the practice of law. She also loves that Barristers plans events that serves the Riverside community, as well as exciting events that allow young lawyers to relax and enjoy each other's company.
In her spare time, Shumika enjoys working out with her husband, quality time with family, volunteering in the community and masquerading for carnival.
Upcoming Barrister Event: Judicial Reception
Barristers is proud to announce that we will be holding our First Annual Judicial Reception on May 17, 2017, from 5:30 p.m.-7:30 p.m. at Grier Pavilion located at Riverside City Hall.
Come admire a beautiful view of the Riverside skyline while enjoying appetizers and refreshments. Network with the Riverside legal community and gain insight from our judicial panelists. Barristers' alumni are encouraged to attend and socialize with past and current members.
Free for judicial officers, invited special guests, and RCBA members. Cost is $20 for non-RCBA members. Please RSVP by May 15, 2017 at 5:00 PM at our EventBrite page: https://rcbabarristers.eventbrite.com. Space is limited. RSVP required to attend. Please direct any questions to Erica Alfaro at erialfaro@gmail.com.
Barristers appreciates the support of our sponsors that made this reception possible:
Diamond Sponsor
Rizio Law Firm
Platinum Sponsor
Aitken Aitken Cohn
Best Best & Krieger
Silver Sponsor
Blumenthal Law Offices
Dennis M. Sandoval A.P.L.C.
JAMS Mediation, Arbitration, ADR Services
University of LaVerne, College of Law
Bronze Sponsor
Provident Bank
General Sponsor
Reid & Hellyer
---
Erica Alfaro currently works at State Fund.