Riverside County Barristers
Click here to view the Barristers Web site.
Barristers President's Message
April 2017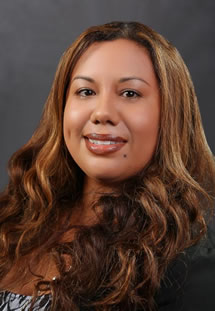 Erica M. Alfaro
Erica M. Alfaro
Board Member Q&A: Breanne Wesche
Breanne is a member-at-large on the Barristers Board. She was raised and currently resides in Riverside.
Breanne obtained her undergraduate education at University of California San Diego. She went on to attend Thurgood Marshall School of Law in Houston, Texas. After graduation she returned to Riverside. She currently practices personal injury law at the Rizio Law Firm.
Breanne enjoys practicing law in the Inland Empire because of the strong sense of community. She finds that members of the legal community are encouraging and supportive of one another, making this a fantastic place to practice law. She also is inspired by how the legal community becomes involved in the surrounding community, making meaningful connections with the rest of the Inland Empire through activities such as the Elves Program and Mock Trial.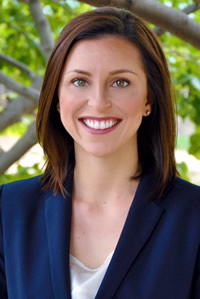 Breanne Wesche
Breanne enjoys being a Barristers board member because it gives her the opportunity to ensure that other young and new attorneys are able to easily network within the legal community. Riverside has so many amazing opportunities for attorneys to get involved and be supported by their colleagues, she hopes that Barristers helps young and new attorneys take advantage of these opportunities.
In her spare time, Breanne enjoys hiking the local Southern California mountain ranges. She also recently had the opportunity to coach her first season of Mock Trial. Breanne worked with Notre Dame High School's inaugural mock trial team. She is incredibly proud of her students as the team advanced into the Elite Eight in the school's first year of competition. Breanne is really looking forward to the next season!
Upcoming Barrister Event
Barristers will be holding a Trial Skills MCLE on Saturday, April 22, 2017 from 9:00 a.m.-12:30 p.m. at the RCBA Building's Gabbert Gallery. Featured presenters include Wylie Aitken, Richard Cohn, and Greg Rizio. Free for RCBA members, $20 for non-RCBA members. Payment to be received at door by cash or check made out to Riverside County Barristers. Please RSVP by Wednesday, April 19, 2017 to RCBAbarristers@gmail.com. Complimentary breakfast provided by Aitken Aitken and Cohn.
Announcement
Nominations are now being accepted for next year's Barristers Board. Positions include president (nominee must be current Barristers board member), president-elect, treasurer, secretary, and members-at-large. Barrister eligible members may be nominated. All nominations must be submitted by Sunday, May 14, 2017, to RCBAbarristers@gmail.com. Election will be held on Wednesday, June 14, 2017.
---
Erica Alfaro currently works at State Fund.