Riverside County Barristers
Click here to view the Barristers Web site.
---
Barristers Column—November 2017

By Shumika Sookdeo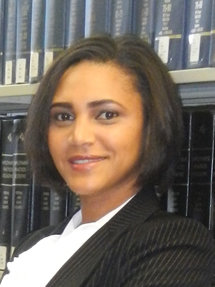 Shumika Sookdeo
Non-Citizen Veterans' Fight: Deportation
As of late, we are learning more and more about individuals impacted by the repeal of DACA—Deferred Action for Childhood Arrivals. DACA was an American Immigration policy established by the Obama administration in 2012 that allowed certain individuals who came to this country as minors, and had either entered or remained in the country illegally, to receive a renewable two-year period of deferred action from deportation and to be eligible to work. In September 2017, the current administration rescinded the act. However, the DREAMers are not the only individuals facing deportation. Many non-citizen immigrant veterans are being deported.
Non-citizen immigrant veterans, just like the over 800,000 undocumented persons living in this country, have contributed immensely to society. A large number of these non-citizen immigrant veterans who have put their lives on the line for this country find themselves unable to return to the country they know as their home. This is primarily a result of The Illegal Immigration Reform and Immigration Responsibility Act of 1996, which enhanced the number and scope of deportable offenses, including misdemeanors. These veterans find themselves deported for possession of marijuana and theft.
Lacking American citizenship, these veterans serve sentences of more than one year of prison followed by a life sentence of deportation and no hopes of return. In reality, they are punished far beyond what an American citizen would experience for similar offenses. When deported, non-citizen immigrant veterans have little or no access to their health and educational benefits entitled to them for their military service.
People should be held accountable for their actions. We should, however, think about the actions of those suffering from PTSD upon their completion of service. Oftentimes, self-medicating via drug and alcohol abuse is a means of coping with life. This conduct consequently leads to criminal charges and convictions. Certain convictions for non-citizens result in deportation. That being said, once a person enlists in the military, there should be some guidelines provided for automatic citizenship or a close alternative. There are guidelines for obtaining citizenship following one's military service, but the process is not relatively clear and easy for the average veteran who desires citizenship.
Assisting non-citizen veterans facing deportation seems reactive. If the laws do not change to help non-citizen immigrant veterans, we must focus on being proactive and helping veterans to cope with PTSD in more healthy ways so that they are not being convicted of crimes resulting from their conditions. It would be great to see this organization begin collaborating with local legal clinics and organizations such as Catholic Charities, Inland Empire Latino Lawyers Association, Inc. (IELLA), Riverside Legal Aid and UCR to assist our local non-citizen veterans with their fight against deportation. We cannot make huge changes overnight, or even in one year, but can have an impact over the years to come by laying the groundwork now.
Upcoming Events
On November 8, 2017, Barristers will get together for "Pub Trivia: Geeks Who Drink," at Wicks Brewing Company, located at 11620 Sterling Avenue, Riverside 92503. Food and drinks at 6:15 p.m.; Trivia at 7:00 p.m. RSVP: RCBAbarristers@gmail.com.
Finally, please stay informed about Barrister events by joining our mailing list at http://www.riversidebarristers.org or follow Riverside Barristers on Facebook and LinkedIn.
---
1 Duke, Elaine (September 5, 2017). "Memorandum on Rescission Of Deferred Action For Childhood Arrivals (DACA)". United States Department of Homeland Security.
2 Garcia, Malcolm J. Without a Country: The Untold Story of America's Deported Veterans. Hot Books, September 26, 2017).
---
Shumika T. R. Sookdeo, managing attorney of Robinson Sookdeo Law, is a past president of the Richard T. Fields Bar Association, a commissioner on the California Commission on Access to Justice, and a board member of John M. Langston Bar Association and California Association of Black Lawyers.