Riverside County Barristers
Click here to view the Barristers Web site.
---
Barristers Column—December 2017
By Breanne Wesche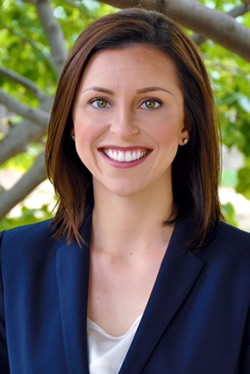 Breanne Wesche
Riverside County Barristers would like to congratulate our President, Shumika Sookdeo, and her husband, Sheldon Sookdeo, on the birth of their beautiful baby girl, Soraya Aria Sookdeo. Soraya was born on November 6, 2017. As Shumika and Sheldon enjoy their new bundle of joy, it is my pleasure to share news about the exciting and eventful past month the Barristers have had.
We are thrilled to report that we have continued to see new faces joining us at each of our recent events. Our goal as the Barristers is to foster growth and engagement in Riverside's young and new attorneys. We are always very happy to see new members joining us for our MCLEs, social events, and networking events. If you would like to find out more about our upcoming events, you can view our Facebook page ("Riverside County Barristers Association"), visit our website (riversidebarristers.org), or join our listserv (by visiting riversidebarristers.org/mailinglist).
On Wednesday, October 18, Barristers and JAMS held an MCLE entitled, "Tips and Tricks: How to Get the Most Out of Mediation." The seminar was graciously hosted by the JAMS Inland Empire office in Ontario. Before the seminar, we enjoyed getting to know many attorneys and mediators from the Inland Empire during the "Mingle and Network" hour. Then, Honorable Joseph R. Brisco (retired) and Honorable Jeffrey King (retired) led an extremely insightful presentation about best practices on preparing for and negotiating in mediations. We all left the seminar with many tools to successfully mediate our cases.
Barristers had a great time attending the annual Ghost Walk on Friday, October 27, which was presented by the California Riverside Ballet. We started with dinner at Lake Alice, then walked the "Deadly Demons" Ghost Walk tour. This tour made stops at the Historic Riverside Courthouse, Old County Morgue, the office of the Riverside County Sheriff, and the Lake Alice Alley. The Barristers really enjoyed the theatrical storytelling one-acts from Poly High School Students and loved seeing the Michael Jackson's "Thriller" performance by the California Riverside Ballet. This was a fantastic community event. We were very happy to sell out the entire block of tickets that was reserved for Barristers' and to see downtown Riverside alive with people enjoying the event and supporting student performers.
On Thursday, November 2, Barristers and Breathe Easy Insurance sponsored a competence MCLE entitled, "Substance Abuse and the Legal Profession." We were honored to have the session led and presented by James O. Heiting, the former California State Bar President. Over 40 attorneys attended this lunchtime presentation. Mr. Heiting and Mr. Michael Razo shared their past personal struggles and taught attendees how to identify similar problems within themselves and those around them. We are thankful to Mr. Heiting and Mr. Razo for sharing such important information with us.
We are grateful for the ongoing support of the RCBA community as we continue to grow and develop. We greatly encourage the continued participation of our diverse group of young and new attorneys here in the Riverside area.
We have several upcoming activities planned, including gathering to help the RCBA Elves during their shopping and wrapping nights. To be updated on our upcoming events, please view our Facebook page ("Riverside County Barristers Association"), visit our website (riversidebarristers.org), or join our listserv (by visiting riversidebarristers.org/mailinglist).
---
Breanne N. Wesche is an associate at Rizio Law Firm in Riverside, is the president-elect of the Riverside County Barristers, secretary of the Women's Caucus of the Consumer Attorneys of California, a board member of the Consumer Attorneys of the Inland Empire, and a member of the RCBA's Leo A. Deegan Inn of Court.