Riverside County Barristers
Click here to view the Barristers Website.
---
Barristers Column — December 2018
By Megan G. Demshki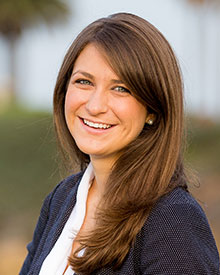 Megan G. Demshki
As I write this article, it has been nearly three years to the day since I passed the California State Bar exam. I still get a pit in my stomach twice a year when bar results come out.
I vividly remember the anxiety and the uncertainty as the day neared when the bar results would be released. I remember the intense sense of relief upon passing. I remember the feeling of pride when I stood with my peers to be sworn in. I remember reciting the oath and considering what an immense obligation I now had to my clients. Passing the bar felt like I was crossing a giant, decades-long finish line. In all reality it was the warmup lap to the beginning of my career.
The last three years have been more challenging and more rewarding than I ever could have expected. I have experienced higher highs and lower lows. I am confronted with new problems and obstacles daily. I am routinely thrust from my comfort zone. I have learned that I will never know the vast majority of the answers. I have learned that my fellow attorneys are an incredible and invaluable resource.
I have comforted clients through the unimaginable, wiping away my own tears as I listen to their sobs. I have celebrated with them the small victories that, if they are fortunate, come with hope of rehabilitating from a catastrophic injury. I have learned that sometimes there simply is no right thing to say. My clients fuel my passion.
I was recently reminded of our obligations as attorneys as I participated in a jury trial. Every trial I have participated in has felt like a whirlwind learning experience, helping me to see the bigger picture and making me a better advocate.
Before this jury selection began, the judge spoke to the packed room of potential jurors. He spoke to them about the third branch of government and about the immense responsibility and duty they have as jurors. It caused me to pause.
For a moment, I forgot about witness outlines, exhibit lists, and motions in limine. I focused on the judge's words. I felt that same sense of pride that I felt the day I was sworn in to the bar. I had an overwhelming sense of obligation to my clients. I felt in awe of being a part of something so much bigger than myself, my clients, or this particular case.
As the jury panel was sworn in, I wondered to myself if they shared my sentiments. Did they feel a sense of pride? Did they feel a sense of obligation to be fair and impartial? Did they recognize their vital role to the preservation of our legal system and equal access to justice?
I certainly hope they did.
Upcoming Events:
Join the Barristers for a hike up Mount Rubidoux on Saturday, December 1, at 9:00 a.m. Meet up at Ryan Bonaminio Park at 8:30 a.m. near the flagpoles to begin the hike together promptly at 9:00 a.m.! Following the hike, continue the fun with brunch at Simple Simon's.
The Barristers will participate in the Elves Wrapping on Thursday, December 13, at 5:00 p.m. Following the wrapping, the Barristers will head to Happy Hour at the Salted Pig. The December Happy Hour is graciously sponsored by Summit Settlement Services, Inc.
Learn more about upcoming events by following @RCBABarristers on Facebook and Instragram or visiting our website, www.riversidebarristers.org.
Looking to get involved?
Whether you are eager to start planning the next great Barristers gathering or just looking to attend your first event, please feel free to reach out to me. I would love to meet you at the front door of a Happy Hour, so you do not have to walk in alone, or simply grab a cup of coffee to learn more about how you can get involved. The easiest ways to get ahold of me are by email at Megan@aitkenlaw.com or by phone at (951) 534-4006.
---
Megan G. Demshki is an attorney at Aitken Aitken Cohn in Riverside where she specializes in traumatic personal injury, wrongful death, and insurance bad faith matters. Megan can be reached at megan@aitkenlaw.com or (951) 534-4006