Riverside County Barristers
Click here to view the Barristers Website.
---
Barristers Column — September 2020
By Goushia Farook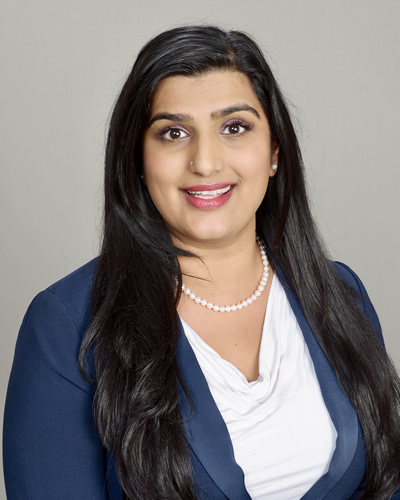 Goushia Farook
I must start my first article by acknowledging and thanking the tireless efforts of the Barristers Immediate Past President, Paul Lin. Paul's leadership has been inspiring and his dedication to the Riverside legal community, admirable. When the COVID-19 pandemic started earlier this year, Paul handled the determination of pending events and transition into virtual events seamlessly. Amidst a background of uncertainty and change, Paul ruled with an iron fist. Kidding! Paul demonstrated flexibility and support to ensure the Barristers safeguarded the principles of our organization and our community.
I suggested to Paul that he remain at the helm for one more year to make up for infringement of COVID-19 on his term. He graciously declined. Over the course of my term, I know I will be looking to Paul for inspiration and answers to incessant questions, including how to sync our google calendar for upcoming events.
Paul, as Yoda said to Luke "always pass on what you have learned."
2020-2021 Starting Line Up
I am ecstatic to introduce our new board. I want to personally thank the incoming board members for supporting the Barristers organization and I look forward to an eventful year despite the challenges our current world poses for social events. My Barristers dream team is as follows:
Past President
Paul L. Lin
President Elect:
Michael Ortiz
Treasurer:
David P. Rivera
Secretary:
Lauren M. Vogt
Member-at-Large:
Alejandro Barraza
Ankit Bhakta
Kevin E. Collins
Braden Holly
Brigitte M. Wilcox
I am looking forward to a great year with this team of amazing individuals!
Just a Barristers Girl, Living in a COVID Word
COVID-19 has certainly caused me to reassess my goals and aspirations for Barristers during my term. I choose to remain optimistic about the future and hope that in 2021 we can return to hosting in-person happy hours without limitations. I am also remaining hopeful that we can host our 2021 Judicial Reception with full fervor. I do have unfinished business to tend to on behalf of Paul. At the end of his term, Paul had hoped to host another Furristers hike at Mt. Rubidoux. For those unfamiliar, we previously hosted a hike at Mt. Rubidoux where you could bring your pet or as we call them, furristers! One of my goals is to make this happen, in part for Paul and in part because while I have not met your dog, I love your dog. You get extra points if your cat joins us for the hike!
For those of you who know me, you know I value community outreach and service. I am hopeful Barristers can contribute to the community during my term, however feasible, and needed while ensuring the safety of our members and public.
I have been told my optimism is naïve and I should not anticipate being able to accomplish what I have in mind. I recognize the reality of our situation, but I cannot purposefully choose to be negative. It is simply not who I am. We will not be going to Disneyland any time soon, but we will have a fun year!
While the time calls for it, I anticipate Barristers will be hosting virtual happy hours, virtual MCLE events and perhaps even limited, socially distanced gatherings. Stay tuned for scheduled events!
Follow Us!
Stay up to date with our upcoming events on the following:
Website:RiversideBarristers.org
Facebook: Facebook.com/RCBABarristers/
Instagram: @RCBABarristers
---
If you have events you would like to see the Barristers host, MCLE topics you would like to see covered, or community outreach options, please contact us and we would love to explore those ideas with you. You can also reach me personally at goushia@brlfamilylaw.com.
---
Goushia Farook is an attorney at Bratton, Razo & Lord located in downtown Riverside where she practices exclusively in the area of family law. She is a member of the Leo A. Deegan Inns of Court, Asian Pacific American Lawyers of the Inland Empire (APALIE), and Inland County Legal Services (ICLS). Goushia can be reached at goushia@brlfamilylaw.com.