Riverside County Barristers
Click here to view the Barristers Website.
---
Barristers Column — February 2019
By Megan G. Demshki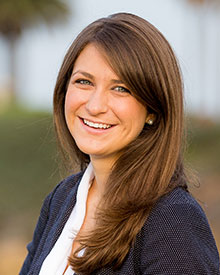 Megan G. Demshki
On a Friday in January, the Barristers met up for a movie night. After a busy work week, I was looking forward to relaxing and enjoying some popcorn and comradery with my peers. Little did I know that "On the Basis of Sex" would leave me so fired up that I would hardly sleep that night.
"On the Basis of Sex" is a movie that tells the story of Ruth Bader Ginsburg in her struggle for gender equality under the law and the cases and career that led to her nomination and confirmation as an associate justice of the United States Supreme Court.
Ruth Bader Ginsburg was sworn into office on August 10, 1993, about one month before my third birthday. On that day, she became the second female associate justice of the Supreme Court, following Sandra Day O'Connor, who was appointed in 1981. To date, there have been 114 total Supreme Court justices, 110 of them have been male. On the current panel, 3 of the 9 justices are female.
I am a notorious planner. I enjoy the order and structure that a well-organized plan fosters. It is no secret that when I try to imagine and plan how I will someday "balance" my career and a growing family, it causes me a great deal of stress. "How will I ever manage to do it all when my family responsibilities grow?" I wonder to myself as I squeeze one more meeting on to my calendar. Even with the support of a spouse that epitomizes the idea of an equal division of labor when it comes to our current household, it weighs heavy on my mind.
Recently as I listened to the clerk read back a favorable jury trial verdict, amidst the poignant joy of watching my client quietly shed a tear in happiness, I wondered how I will ever be able to do this demanding and all-encompassing job I love while raising children.
But watching this movie alongside some of the fierce, young female attorneys of the Barristers, gave me hope, inspiration, and reignited a passion. I am not alone. I am not the first woman to experience these struggles and these worries. I live in a community with incredible examples in both the bench and the bar. I am fortunate to work for a firm that values both family and equality. I have a husband and a family that are my biggest supporters and my rock.
I have been privileged to grow up in a time with both genders on the panel of the Supreme Court and throughout the lower courts. I have had the opportunity stand on the shoulders of giants in the battle for gender equality in the world and in our legal community. And while the work is not over in the battle for gender equality, I am so fortunate to benefit from the women, and men, who came before me and paved a smoother path.
Perhaps talking about this concern instead of bottling it up will allow for the kind of dialog that is necessary for continued change and will generate support for one another as we work to develop fulfilling lives, both in our careers and in our families. I hope I am playing my own role in making our world a little more equal for us all.
Upcoming Events:
Meet up with the Barristers at Romano's Downtown Rooftop for Happy Hour on Friday, February 8t at 5:30pm. This event is graciously sponsored by Varner & Brandt LLP.
Keep your eye out for registration for Motion to Strike bowling night with the Barristers on Friday, February 22! This event is kindly sponsored by Melissa Baldwin Settlements.
Learning more about upcoming events by following @RCBABarristers on Facebook and Instragram or visiting our website, www.riversidebarristers.org.
Looking to get involved?
Whether you are eager to start planning the next great Barristers gathering or just looking to attend your first event, please feel free to reach out to me. I would love to meet you at the door of a Happy Hour so you don't have to walk in alone or grab coffee to learn more about how you want to get involved. The easiest ways to get ahold of me are by email at Megan@aitkenlaw.com or by phone at (951) 534-4006.
---
Megan G. Demshki is an attorney at Aitken Aitken Cohn in Riverside where she specializes in traumatic personal injury, wrongful death, and insurance bad faith matters. Megan can be reached at megan@aitkenlaw.com or (951) 534-4006