Riverside County Barristers
Click here to view the Barristers Web site.
---
Barristers Column—March 2017
Checking on Our State of Affairs
By Shumika Sookdeo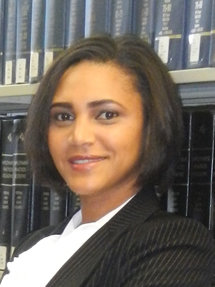 Shumika Sookdeo
When I was elected as the president of the Barristers in June 2017, I wondered whether I would be able to successfully lead the organization. Just months prior to the elections, I learned that I was pregnant with my first child. I thoughtfully reminded myself that an incredible group of young and ambitious individuals were also elected to complete the Barristers' board.
Each month the Barristers have been busy planning and executing events for the legal community in Riverside. These include MCLE events, social events, and networking events. With the continued support of the RCBA and our various sponsors, we have had great attendance at all our events.
Since the beginning of the 2018, we have managed to maintain our amazing momentum. The committees take pride in using creative ideas to ensure novel events and a variety of experiences for young attorneys and attendees.
On January 9, the Barristers teamed up with the RCBA Civil Litigation Section to present an MCLE on "Bias in the Legal Community," with guest speaker Casey R. Johnson, a partner of Aitken Aitken Cohn.
On January 26, the Barristers held "Motion to Strike," a fun evening of bowling at Bowlero in Riverside. The Barristers' board, along with new faces, enjoyed a night free of shop talk and legal arguments and full of jokes friendly competition. We also held a social event in February at Romano's in downtown Riverside.
UPCOMING EVENTS
We have several upcoming activities planned:
On March 1, noon, at the RCBA's Gabbert Gallery, we have an MCLE on evidence presented by Judge Jack Lucky. The event is sponsored by ABC Counseling.
On March 16, 5:30 p.m. at Lake Alice in downtown Riverside, we have a social event planned.
On May 9, 5:30 p.m. at Grier Pavilion, located at Riverside City Hall, will be the Barristers' Second Annual Judicial Reception. More information will follow.
Finally, please stay informed about Barristers' events by joining our mailing list at http:www.riversidebarristers.org or follow Riverside County Barristers Association on Facebook.
---
Shumika T.R. Sookdeo, managing attorney of Robinson Sookdeo Law, is a past president of the Richard T. Fields Bar Association, a commissioner on the California Commission on Access to Justice and a board member of John M. Langston Bar Association and the California Association of Black Lawyers.