Riverside County Barristers
Click here to view the Barristers Website.
---
Barristers Column — April 2019
By Megan G. Demshki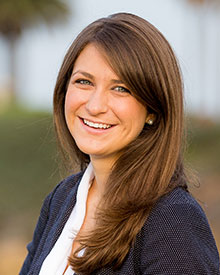 Megan G. Demshki
The Board of Directors of the Riverside County Barristers invites you to the Third Annual Judicial Reception on Thursday, May 2, 2019 from 5:30 - 7:30 p.m. at Grier Pavilion located at Riverside City Hall.
Come admire a beautiful view of the Riverside skyline while enjoying appetizers and refreshments from Riverside's own, The Salted Pig. Network with the Riverside legal community and meet members of the judiciary. Barristers alumni are encouraged to attend and socialize with past and current members
We are humbled to present the Honorable Jackson Lucky with the 2019 Barristers Judicial Officer of the Year Award and Robyn Lewis with the 2019 Barristers Attorney Advocate of the Year Award!
Hon. Jackson Lucky: 2019 Barristers Judicial Officer of the Year Award
This award is presented to a judicial officer in the Riverside legal community that takes a special interest in the development and mentorship of new and young attorneys. Judge Lucky routinely goes above and beyond to be a model member of the Riverside legal community. You can frequently find Judge Lucky coaching high school mock trial along with newer attorneys, participating at the Deegan Inn of Court, providing guidance and mentorship to young attorneys, and presenting at MCLE events for the Barristers and the Bar Association with some of the best power point presentations around.v
Robyn Lewis: 2019 Barristers Attorney Advocate of the Year Award
This award is presented to an attorney in the Riverside legal community that advocates for new and young attorneys and presents young attorneys with opportunities for growth and advancement. When considering nominations for this award, the Barristers board unanimously and enthusiastically selected Robyn Lewis to be the first-ever recipient of the Barristers Attorney Advocate of the Year Award. Robyn has distinguished herself in our legal community through her commitment to the RCBA. Robyn has been indispensable in the development and continued success of both the Bridging the Gap program and the New Attorney Academy. Both of these programs give the new attorneys an introduction to the Riverside legal community, while also providing opportunities for relationship building, MCLE credit, and skills-based learning.
We hope you will join us to recognize these amazing leaders in our legal community and to celebrate the Riverside judiciary. This event is free for judicial officers and Barristers (members of the RCBA who are under age 37 or have been in practice less than 7 years). The cost to attend is $10 for RCBA members. The cost to attend is $20 for non-RCBA members. Register for this event on the Barristers Facebook Event or the EventBrite page, http://rcbabarristersjudicialrecep.eventbrite.com.
The Barristers greatly appreciate the support of our sponsors that made this reception possible.
Platinum Sponsors:
Melissa Baldwin Settlements
Rizio Liberty Lipinsky
Aitken Aitken Cohn
Gold Sponsors:
Law Offices of Shauna M. Albright
Varner & Brandt, LLP
Reid & Hellyer
Silver Sponsors:
Blumenthal Law Offices
Emanate Appearance Attorneys
Bronze Sponsors:
Exum Law Offices
First Legal
The Turoci Bankruptcy Firm
University of La Verne College of Law
It is not too late to sponsor this event. Please contact Megan at megan@aitkenlaw.com for details.
Upcoming Events:
Meet up with the Barristers Tio's Tacos for Happy Hour on Friday, April 12, at 5:30 p.m. Summit Settlement Services, Inc. graciously sponsored this event.
Celebrate the graduates of the New Attorney Academy with the Barristers at El Patron on Friday, May 17, at 4:30pm.
Elections for the 2019-2020 RCBA Barristers board of directors will be held on Wednesday, June 12, at 5:30 p.m., at The Brickwood.

All nominations must be received by Friday, May 19, 2019, at 5:00 p.m.
Available positions include: President-Elect, Treasurer, Secretary, and Member-at-large.
Please send nominations to rcbabarristers@gmail.com.
Only Barristers members who have attended 2 Barristers event this year may vote.
Learning more about upcoming events by following @RCBABarristers on Facebook and Instagram or visiting our website, www.riversidebarristers.org.
Looking to get involved?
Whether you are eager to start planning the next great Barristers gathering, or just looking to attend your first event, please feel free to reach out to me. I would love to meet you at the door of a Happy Hour, so you do not have to walk in alone, or grab coffee to learn more about how you want to get involved. The easiest ways to reach me are by email at Megan@aitkenlaw.com or by phone at (951) 534-4006.
---
Megan G. Demshki is an attorney at Aitken Aitken Cohn in Riverside where she specializes in traumatic personal injury, wrongful death, and insurance bad faith matters. Megan can be reached at megan@aitkenlaw.com or (951) 534-4006