Riverside County Barristers
Click here to view the Barristers Website.
---
Barristers Column — November 2018
By Megan G. Demshki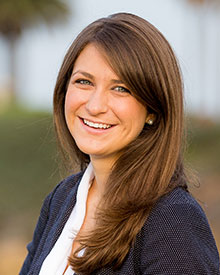 Megan G. Demshki
As I reflected on this month's family law theme, I realized how little I knew about the world of family law. Aside from one community property course in law school, my exposure to this area of the law has been quite limited. So true to how I have learned to tackle any law-related problem that I don't know the solution to, I turned to one of my peers, in this instance Goushia Farook, for her insight in the area as a family law practitioner.
Goushia Farook is a member-at-large on the Barristers board. Goushia earned her Bachelor of Arts with honors in political science and women's studies from San Diego State University. She went on to complete her Juris Doctor from John F. Kennedy University School of Law. She is an associate attorney at the Law Offices of Shauna M. Albright in Riverside. One of Goushia's goals this year as a member of the Barristers board is to increase the Barristers' involvement in community service oriented events.
Here are some of Goushia's thoughts on family law:
How did you come to work in family law?
I landed in family law unexpectedly. I had to take time off after law school as I was diagnosed with leukemia. Four years later, I passed the State Bar, but needed to develop marketable skills quickly and efficiently. I picked up the Family Code, started reading, and found myself in court a few days after taking on my first case. I have not looked back since!
Why do you enjoy practicing family law?
I know it may sound very cliché, but I genuinely love practicing family law because I can help my clients' transition through one the most difficult times of their lives. While it is an often thankless job, nothing replaces the feeling of seeing a parent reunited with a child or two parents working together to reach child-focused goals. I also love that family law is one of the few areas of law where attorneys can find themselves in court practically every single day.
What is one of your greatest lessons learned working in this area?
Everyone has a story. Family law transcends race, class, gender, socio-economics, and politics. Family is the common denominator we all share, and just like a book, you can never judge a person by their cover.
Any words of advice from a family law practitioner?
Not everyone can be a family law practitioner. However, family law is a great opportunity to sharpen your litigation skills. My golden rules: always be prepared, if you are not early, you are late, and civility is key.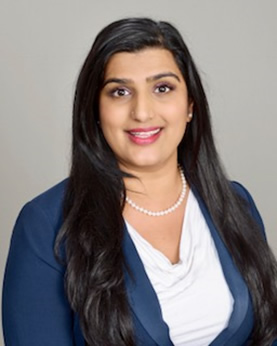 Goushia Farook
Upcoming Events:
Happy Hour at Riverside Food Lab on Friday, November 16, at 5:30 p.m.
The Barristers will join the Law Offices of the Public Defender (5th Floor Training Room, 4075-A Main St., Riverside, 92501) on Friday, November 30, for a MCLE program on Ethics by Mohamad Khatibloo. Arrive by 12:00 p.m. to check in and get your name tag. RSVP at Riversidebarristers.org.
Join the Barristers for a hike up Mount Rubidoux on Saturday, December 1, at 9:00 a.m. Meet up at Ryan Bonaminio Park to begin the hike together! Following the hike, continue the fun with brunch at Simple Simon's.
The Barristers will participate in the Elves Wrapping on Thursday, December 13, at 5:00 p.m. Following the wrapping, the Barristers will head to Happy Hour at the Salted Pig.
Learn more about upcoming events by following @RCBABarristers on Facebook and Instragram or visiting our website, www.riversidebarristers.org.
Looking to get involved?
Whether you are eager to start planning the next great Barristers gathering or just looking to attend your first event, please feel free to reach out to me. I would love to meet you at the door of a Happy Hour, so you do not have to walk in alone, or grab coffee to learn more about how you can get involved. The easiest ways to reach me is by email at Megan@aitkenlaw.com or by phone at (951) 534-4006.
---
Megan G. Demshki is an attorney at Aitken Aitken Cohn in Riverside where she specializes in traumatic personal injury, wrongful death, and insurance bad faith matters.